Clothing Recycling – Available for residents in all RRRASOC member communities
Clothing and textiles are 100% recyclable, but 85% still ends up in landfills.
Learn more at www.weardonaterecycle.org
Review this guide to Selling, Donating and Recycling Old Clothing
Information on denim recycling
Residents in all RRRASOC member communities (Farmington, Farmington Hills, Milford Township, Novi, South Lyon, Southfield, Village of Milford, Walled Lake and Wixom) can recycle unwanted clothing, shoes, accessories and other household discards such as kitchenware, tools, toys and books.
In cooperation with participating communities and RRRASOC, Simple Recycling provides an easy, free and convenient way to keep this 100% recyclable and reusable material out of landfills.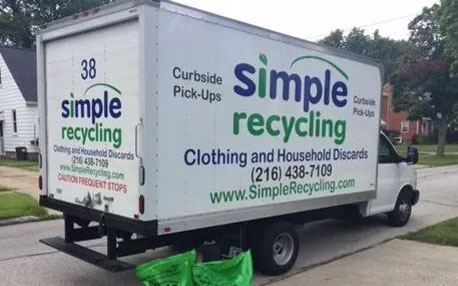 Simple, Easy and Free Program Steps:
Step 1: Schedule a pickup by completing the form below or by calling 866-835-5068.
Step 2: Place clothing, shoes and small household items that you no longer need in any waterproof bag(s) or box(es) clearly marked SIMPLE RECYCLING.
Step 3: Leave the clearly marked bag(s) or box(es) on your front porch or in front of your garage door by 7:30 a.m. on your scheduled pickup day and Simple Recycling will collect them and recycle their contents for reuse!
This program is in addition to your current recycling program. Your recycling cart / bin collection will remain the same.
Simple Recycling is focused on clothing and textile recycling, but they are able to take any small household goods in working condition, too.
Acceptable Items:
Men's Clothing

Children's Clothing

Women's Clothing

Bedding (sheets, pillow cases, blankets, comforters)

Belts & Ties

Books

Boots

Bras

Coats & Jackets

Curtains/Draperies

Dresses

Fashion Accessories

Halloween costumes

Handbags & Purses

Hats

Jeans

Kitchenware

Linens

Pajamas

Pants
Pet beds & clothing

Pillows

Shirts

Shorts

Skirts

Shoes & Slippers (in pairs)

Socks (single or in pairs)

Stuffed Animals

Suits

Sweaters

Sweatpants

Sweatshirts

Table Linens

Ties

Tools

Towels

Toys

T-shirts

Undergarments
Residents who live in communities not serviced by the Simple Recycling program are encouraged to donate unwanted clothing to their favorite charity or thrift shop. RRRASOC provides a list of local organizations, including those that offer pickup.